ACTUATOR – ARA600 PROPORTIONAL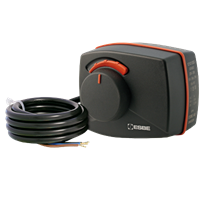 Series ARA600 with proportional (voltage/current) signal is suitable for mixing operations together with valves such as VRG130 and VRB140. In these applications can any position of the actuator operating range be used to get the desired mix level. The actuator is controlled by a voltage or current control signal and offer a more precis operation of the actuator and valve.
ACTUATOR – CRA110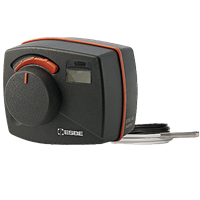 Series CRA110 is a constant flow temperature controller for applications where a constant water temperature is required. Temperature settings is done by an easy-to-use joystick and display interface. The compact controller is designed for operating rotary valves DN 15-50 and has an operating range of 90°. The series can easily be manually operated by the pull-and-turn knob on the front of the cover.
CONTROLLER – CRC110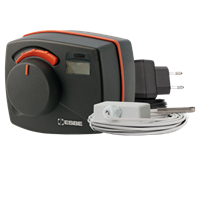 Series CRC110 is an outdoor sensor based controller with integrated actuator for use on mixing valves like VRG130 and VRB140. The controller is designed to provide a high level of comfort thanks to the possibility to set a perfect characteristic heating curve and at the same time provide energy savings for the house owner. The regulation is based on outdoor sensor feedback and an adjustable characteristic heating curve. An offset / parallel adjustment of the characteristic heating curve may be activated by an external signal for example night settings. For applications with well insulated building and quick heating systems such as radiator circuit can a temperature filter be activated to delay an outdoor temperature change to avoid an imbalance between estimated and actual heating demand.
LOAD UNIT – LTC100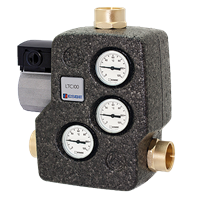 The series LTC100 is a load unit with integrated 3-speed pump to be used with boilers up to 140 kW. The load unit makes sure that the boiler gets up to a high combustion temperature so as to ensure the lowest possible emissions. Above all, the load unit make sure that the return temperature to the boiler is kept high and guaranteed over the entire combustion cycle which enables a higher level of boiler efficiency, reduced tarring and increased life span of the boiler.
FLUE GAS THERMOSTAT – CTF150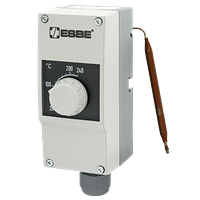 The series CTF150 is typically used for on/off control of circulation pumps and load units. The flue gas thermostat consists of a temperature probe connected to the switch unit. The switch is used to control the electrical supply to a circulation pump or a load unit with an integrated circulation pump. The temperature probe can be mounted on the outside of the flue gas pipe, or inside the pipe using the immersion pocket series CTF851. The switch unit is prepared for easy wall mounting.